A tradition of building quality homes.
The beginning of the next chapter…
Viking Properties is made up of two families: the Skadbergs and the Gulbrandsens, with familial ties that date back generations. This strong bond is the foundation of their company's success over the past 40 years. The name Viking Properties merges the Norwegian Viking law with a "Hygge" value. Viking Properties pays homage to their ancestral roots, valuing where they came from, without losing sight of the journey they are embarking on.
The story begins in 1982, when Harald made the trek from Norway to Victoria, BC to seek out new opportunities. For the first 5 years, Harald and his Father built homes in Victoria together. In 1987, Harald joined Jon under the partnership "Scan Homes" in Victoria.
They worked together to construct homes until 1992, when they dissolved the company and parted ways. Jon moved back to Norway and Harald moved over to Nanaimo, BC, where Harald became the president of the Builders Association. During his time there, Harald continued to build homes for families. However, it wasn't long before the two would join forces again.
In 2003, they both moved back to Victoria and founded Pacific Coast Land Company (now Viking Properties). With two strong forces coming together, they have crafted many single and multi-family projects over the years. These developments include but are not limited to: Pacific on Veterans (2003), Pacific Central (2015), Pacific Circle (2017), and Thetis Lakeside (2019). In 2021, Harald is excited to step back and mentor Ben, as the business continues to grow and builds on the excellence of the past 40 years!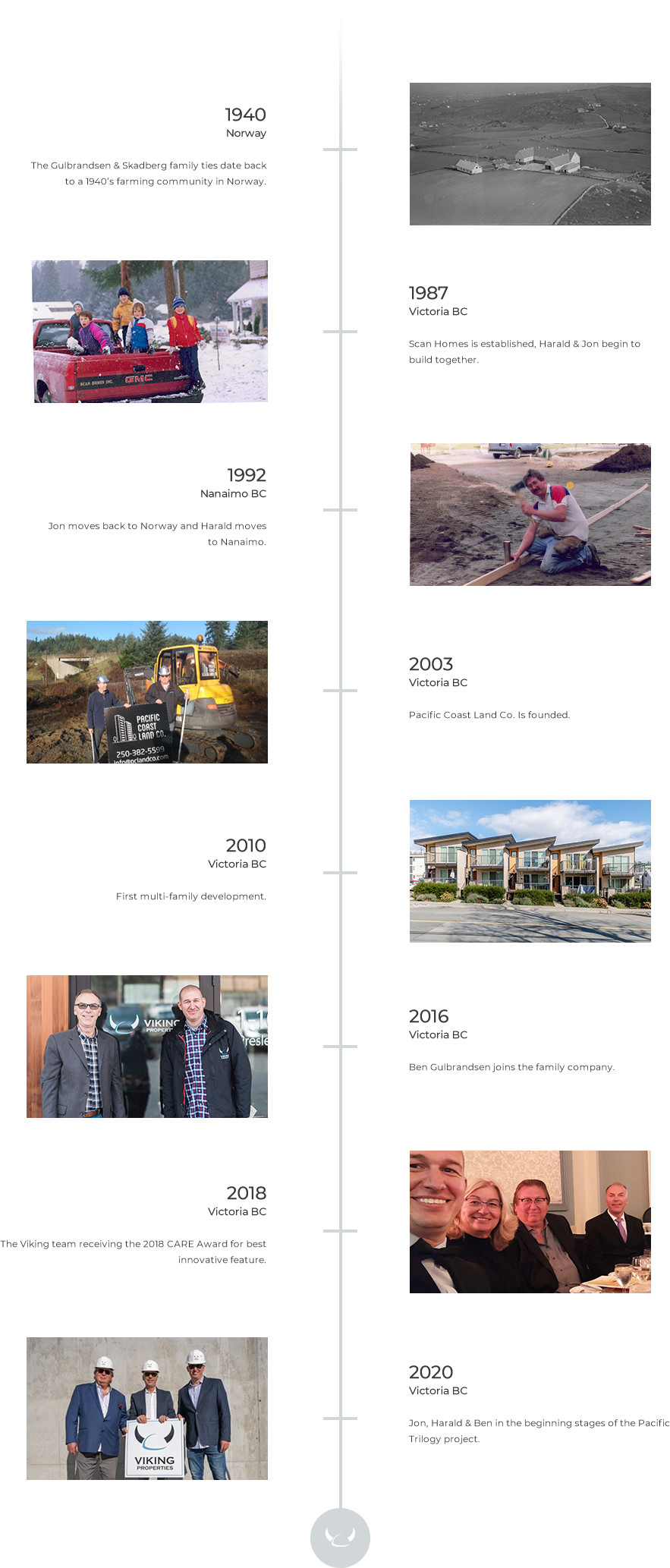 Harald "Harry" Skadberg, Co-founder
Harald was born and raised on the Skadberg family farm in the beautiful south-west coast of Norway. From a young age, he gathered eggs, built treehouses and repaired equipment as so many farmers do. He studied in Norway to become a Master Carpenter and he has also earned a certificate in Business...
Continue reading
JanEgil "Jon" Co-Founder
Jon (JanEgil) Gulbrandsen moved from Norway to Victoria in 1987 and founded Scan Homes with his friend Harald. They focused on single family home construction in the greater Victoria region. Jon has been married to his Beverly for 40+ years and they have five children together. During a construction lull in 1992...
Continue Reading
Traditionally inspired

modern values.
A Norwegian word meaning "a form of everyday togetherness", "a pleasant and highly valued everyday experience of safety, equality, personal wholeness and a spontaneous social flow". Hygge combined with ancient Viking laws adapted for modern-day form the core values of Viking Properties.